by Karen Post aka the Branding Diva
Have you ever noticed that most of the top brands in any industry that become historic icons have broken a mold of commonhood and predictability to get there? They traveled to foreign turf, believed in something obscure and unknown, and now dominate a category. They were not afraid to be different. They accepted resistance and marched on to brand nirvana.
You can do the same. Many of us operate in a space where many others offer a similar product or service. If you want to stand out, you have got to be distinct, compelling, and memorable. Boring, ordinary and like everyone else simply does not fly.
Meet this bunch of brave branders.
Adrian Gostick and Chester Elton, of carrots.com authors of the best-selling Carrot business book series including the newly-released New York Times Best-seller The Carrot Principle, and the New York Times Best-seller The Invisible Employee, published by John Wiley & Sons. The 24-Carrot Manager and the A Carrot A Day, a Wall Street Journal and BusinessWeek national bestseller, have been translated in over a dozen languages and continue to impact managers throughout the world.
They made a veggie a better way to grow and attract solid staff. Beyond all their carrot jargon, Chester, my pal, has been known to sport an bright orange watch, brighter orange stocks and even brighter orange pocket sash all complimenting his fuel of choice, the carrot. What a fresh way to brand human resource consulting and tools.

And, if you think this out of the crate thinking just applies to creative people pitching services, check out these folks who put a healthy spin on their formally known as "a commodity" printer's ink into www.carrotsink.com.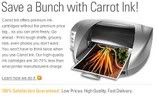 In 1998, John and Amy Howard founded Carrot Ink on the belief that quality inkjet cartridges shouldn't cost more than your printer. Fed up with paying printer manufacturers' prices, they challenged themselves to do it better and cheaper than the big guys. They found that they could offer a premium product without a premium price tag. In fact, high quality Carrot Ink sells for 30-70% less than that of the name brands.
Both of these companies took the plunge and branded their products with a distinct, story telling approach that was miles away from anything thing their competitors were doing. Now they both own lots of equity in these growing, thriving brands.
Lose your fear and you will find your brand.
Have you taken any risks that have paid off? Or, which risk-taking, maverick brands do you admire?