A few months ago, we wrote a
post about some interesting business cards
that we'd come across in our travels. Since this week's main article about personal brands highlights calling cards as an important touch point where you can reinforce your brand and make it stick, we thought we'd bring you a few more cool, creative examples and the names of a few printers that we have had good experiences with.
Flickr has a great business card pool.
Once you've got your design in mind, where do you go? We've tried a few different vendors and have had luck with a company in Chicago called M13 Graphics and moo.com.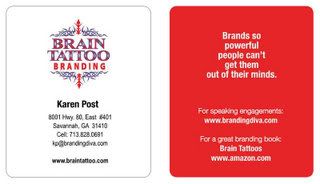 M13 Graphics created our Brain Tattoo Branding cards . M13 had several unique offerings including the size, the shape and the finish. They worked with us to make a card that truly stands out from the crowd. Moo.com is easy to use and turns out fun, high quality cards.