by Ann Marie Gardner
I am pleased to post my first blog about an exciting new project for Oddpodz. As the newest member of the marketing team, I accompanied Karen Post (Oddpodz co-founder) on a field trip to the Savannah College of Art and Design (SCAD). Oddpodz has been chosen to receive a branding/marketing jolt from the students of SCAD.
This means the brilliant minds of the Branding Solutions class, directed by branding guru professor Steven Hall, have joined our team.
SCAD is an internationally-renowned art and design school with campuses here in Savannah, in Atlanta, Georgia; and Lacoste, France. We are fortunate to have the creative wealth of these students-who come from around the country and as far away as Barbados-in our own back yard.
Professor Hall is a graphic designer, advertising art director, writer, creative director and instructor with 25 years of experience. Prior to joining SCAD, he worked as a vice president and creative director at Saatchi & Saatchi Advertising. His campaigns for professional film, agricultural chemicals and network infrastructure on behalf of Kodak, DuPont and Alcatel earned numerous national awards. In addition to teaching, he serves as Chair of the Advertising Design Department.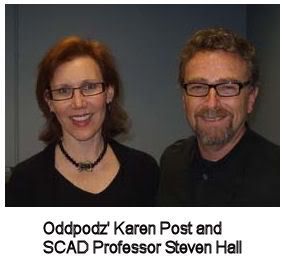 Sitting in the classroom, and listening to the questions and thoughts about our current site, I couldn't help but enjoy a great sense of anticipation to see what the group will come up with to support our growth.
Nothing can compare to the inquisitive nature of students, and especially the free exchange and flow of ideas in a room full of artists with different talents, backgrounds, and perspectives. Some are illustrators who see the site for its artistic possibilities, and some are marketers who are busy mentally engineering the message. With this in mind, I have no doubt the collective will produce something fantastic.
While it's not uncommon for a college class to work on an assignment for an existing brand, or a re-work of an established brand to make it fresh-for a grade, it is a bit odd to have students work on a real-world project pretty much from scratch. This group of students gets a virtual blank piece of paper and a start-up brand with little brand equity.
Reminiscing about my own college days at UVA, it would have been like helping AOL design its first home page; that's how big this is going to be for the students and for us.
The project kicked off on February 14 and will go to the end of March with a formal presentation from the students.
The kick off meeting included a recap of the company, the good, bad and way ugly of a start-up. For more, check out Karen Post's past articles in Fast Company.
This energetic class is already deep into the creative process to provide their ideas to help fuel the Oddpodz site and mission. So stay tuned for their contributions. I will be posting our progress as we journey forward with the help of the SCAD students.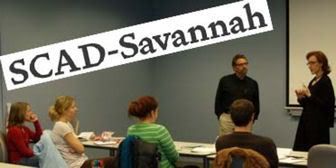 The members of our SCAD team are Anne Bronsveld (New Jersey), Rebecca Cullers (Virginia), Mrudela Divekar (India), Emily Dozier (Virginia), Marisa Sealy (Barbados), Mandy Stinson (Arizona), Matt Umphlett (Mississippi), and Betsy Voight (Vermont).
If you've got thoughts or ideas too, all are welcome, just comment away.