A while ago we wrote about a kid in my sister's class who was ahead of his times. Fashion forward. Long story short, we explained that you never can tell who has their finger on the trend pulse. Last time, it was a second grader.
This time, a home builder/restorer has called one of this fall's hottest fashion trends. A dear family friend used to pack his belongings for a weekend getaway in large, black plastic (trash) bags. He called his collection "Hefty Vuitton."
Well, wouldn't you know, this Sunday in the New York Times Style Section there was a photo montage of several of New York's chicest carrying Chanel's hot new bag.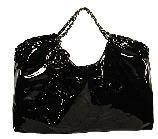 From the article. "At first glance, you might think these women are carrying trash bags. Well, they're not. It's the latest Chanel plastic carryall, about $1,000, with chain handles and a signature double-C charm. A few are in leather, and, one, below, is a rare satin one. The bag, first spotted in Paris last month, above, is the superstatus bag carried by shoppers on Madison and Fifth Avenues. There is a waiting list of months to buy one."
Once again, one person's crazy is next year's must have item.