Here's a fun little project we learned about through
photojojo.com
If you've got three digital cameras (or a phone with a camera) and some time to kill, you can create your own "Digital Picasso." It's some scary cubism.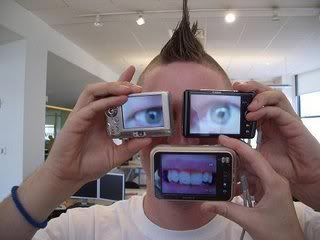 Step 1: Find a couple digital cameras. (Ideally with large screens.)
Step 2: Hold each camera closely over a crucial part of your face as if you're going to take a picture of it.
Step 3: Get a friend to take a picture of you. Rearrange and re-shoot as necessary to make yourself look as ugly as possible.
Check out the site to see more examples of the technique and submit your own! Digital Picassos.
[/fusion_builder_column][/fusion_builder_row][/fusion_builder_container]