What we want for Christmas (in the toy category)
There seems to be a Rubik's Cube revival spawned by the TV commericals for the movie highlighted in an earlier entry – The Pursuit of Happyness. There was even a segment on the news this morning featuring a Rubik's expert – he can solve the 'impossible' puzzle in seven, or seventeen seconds – we can't remember.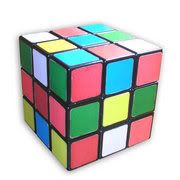 We don't want the Rubik's Cube.
We got it for Christmas the first time around and used to mess it up just enough that we could re-trace our steps. Anything beyond that, we had to wait for a visit from Pop-pop. He bought the books and learned how to solve it. It became more fun to try to mess it up and try to stump Pop-pop than to try to solve it ourselves. If we knew we'd be without the Rubik's master for a while, we would get desperate and try to peel the stickers off and position them in the 'solved' position. We also tried dismantling the cube with pliers and putting it back together.
We weren't really a Rubik's group. Santa's selection of toy/puzzle for us was the Orb (Orb-it). Did anyone else have one of these? None of the other kids at school had the Orb – they were Rubik's fans. See, we were oddpodz from the start.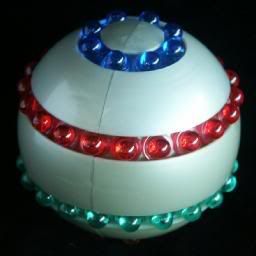 This Christmas, we want "The Ball of Whacks," from creativewhack.com. It is "is made up of 30 magnetic design blocks that can be taken apart and rearranged in endless ways. More versatile than a puzzle and lots more fun than a brain teaser, there's no wrong way to play and work with it. It gets your creative juice flowing!" Amen!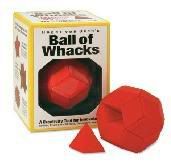 It would be so much better than the current office creativity toy. The giant rubber band ball.